Hotel Introduction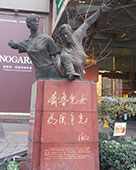 Yuquan Simpson Hotel Ji'nan LU Hong Kong joint venture four Starhotel Tourist Hotel, the first China table tennis culture theme hotel, the hotel is located in Ji'nan City, the most prosperous central financial business district core zone, from the city of Ji'nan five famous scenic spots Zhichizhiyao, business area of 60 thousand square meters, has 400 rooms (sets), more than a meal, many the function of the conference center, table tennis club, modern parking facilities such as Goods are available in all varieties.
Since 1995, built since December 2017 renovation, upgrading, Yuquan Simpson Hotel has always been adhering to the "love table tennis, dare be a person first, integrity forever, social commitment" spirit of enterprise, become an independent school in the Chinese hotel industry, has won the "national advanced foreign investment enterprise", "International theme hotel outstanding contribution award", "China Shandong brand" "China ping-pong house", "Shandong Province outstanding star hotel", "Shandong famous trademark", "Shandong province trustworthy enterprise" honorary title of more than one hundred.
Go into the ping-pong house and feel the culture of table tennis. Sincere, warm, hospitable Yuquan people look forward to your visit.
Hotel facilities
The hotel has 400 rooms (sets), more than a meal, different style rooms feature, banquet hall nearly thirty, a variety of large, medium and small size meeting rooms more than ten, and have a professional arts venues and table tennis venues, advanced facilities, luxurious and elegant, is your business meetings and information publishing, academic exchanges, product promotion, the ideal place to host exhibition, banquet, theatrical performances.
There are business centers, ticketing centers, three-dimensional garage and so on. Provide the full and convenient service for you.
Usp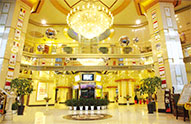 1、The hotel has the theme guest rooms, multimedia theater rooms, children's rooms, landscape rooms and other special theme rooms, fully meet the individual needs of guests.
2、The total area of Yuquan table tennis club is 1000 square meters, and the 30 international standard table can be placed at the same time. The contractor has been large-scale domestic and international table tennis competitions hundreds of times, was awarded the "table tennis table tennis China house" honorary title.
3、The ticketing center has the qualification of the first class passenger transport approved by CAAC. It is recognized by the International Air Transport Association. It is the designated agent of more than fifty airlines at home and abroad. At the same time, the service of train ticket, long-distance bus ticket sales, air cargo transportation agent and so on. The deluxe bus bus starts every hour in front of the hotel door.
4、The large intelligent parking garage has more than 200 parking spaces, which is intelligent and environmentally friendly and safe and fast. At the same time, the park sister-in-law can provide a number of services such as car beauty, maintenance and fittings.
Hotel traffic