Theme culture
Yuquan Simpson Mascot "Ping-Ping" and "Pong-Pong" was born!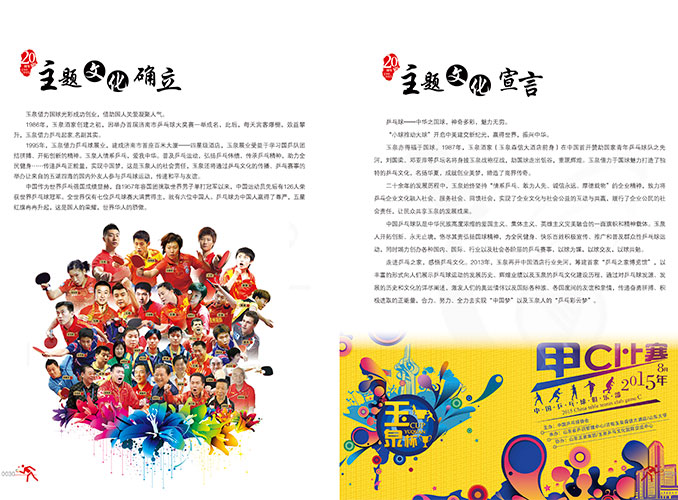 Yuquan Simpson Hotel - China's first Ping-pang culture themed hotel. For more than 20 years, Yuquan has always been adhering to the entrepreneurial spirit of "Ping-pong, dare to be the first, and good faith forever" and has been loved and praised by friends from all over the world. Its mascot "ping ping, pong" means "the essence of the national ball, Yuquan baby." The names of "ping pong and pong pong" are catchy, and the main colors of "ping ping" (male baby) are green and white. The vivid green color makes people think of olive branches and peace doves. It indicates that Yuquan is full of vitality and enthusiasm. The hospitality of the Yuquan people and friends from all walks of life is a symbol of nature, peace, health, and harmony in the Yuquan family. "Pong-pong" (girl) has its primary color of orange and white, which is consistent with the national ball's color. In terms of physical form, the exaggerated design of the head also meets the principle of auspicious title of Chinese folk customs. The name "Yuquan Baby" is inseparable from the image of the mascot. It is cute and playful.
Yuquan Baby's "ping-pong and pong-pong" is the "image ambassador" of the 20th anniversary of the Yuquan Simpson Hotel, a Ping Pong culture themed hotel. He is welcoming friends from all over the world with his warm arms and confident smile. The main theme of the mascot is "table tennis and rackets". It reflects the spirit of the national ball that is strong, enthusiastic, and indomitable. It also echoes the extensive and profound culture of Yuquan Pingpong Culture and the design philosophy of the love of public welfare during the more than 20 years. . In mascot design, the first use of the national ball's color and shape as a mascot design pictogram is an innovation.
Head: The sleek shape is extraordinarily lively and personal, pointing to the origin of the life of the mascot.
Face: A cartoonish, simple expression, friendly and confident.
Eyes: Big, round and playful eyes, looking forward to the future development of the company.
Main colors: Green and orange are full of inclusiveness, vitality and imagination, symbolizing Yuquan family full of development hope and potential.
Body: Round body, showing the good feelings of a harmonious life, cute and playful.
Fist: A single thumb is a praise and welcome to friends all over the world.
Bigfoot: Standing steadily on the land of China, it became a strong support for enthusiastic open arms, bearing the confidence and glorious progress of Yuquan's 20th anniversary.